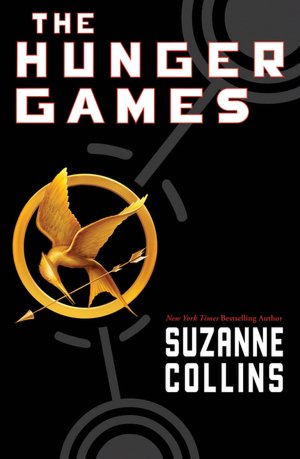 Book Review #42: The Hunger Games (The Hunger Games #1)
Author: Suzanne Collins
Genre: Young Adult, Dystopia
Source: Chapter's book store
Synopsis: In the ruins of a place once known as North America lies the nation of Panem, a shining Capitol surrounded by twelve outlying districts. The Capitol is harsh and cruel and keeps the other districts in line by forcing them to participate in the annual Hunger Games, a fight-to-the-death on live TV.
One boy and one girl between the ages of twelve and sixteen are selected by lottery to play. The winner brings riches and favor tohis or her district. But that is nothing compared to what the Capitol wins: one more year of fearful compliance with its rule. Sixteen-year-old Katniss Everdeen, who lives alone with her mother and younger sister, regards it as a death sentence when she is forced to represent her impoverished district in the Games.
But Katniss has been close to dead before—and survival, for her, is second nature. Without really meaning to, she becomes a contender. But if she is to win, she will have to start making choices that weigh survival against humanity and life against love. (Chapters/Indigo)
My Thoughts: Disclaimer: this is actually the second time I've read this book, but when I read it last summer I guess I must have forgotten to review the series! Oops.
Because of the Catching Fire movie coming out, I have to reread the first and second books in the trilogy because that's just how I am. Well, I've FINALLY actually completed a book this semester. Since September, The Hunger Games is the only book I've read. How sad is that? But it's such a good book, it's worth it.
It was even better the second time. Last summer, I just whizzed through the book in a fury. But this time, the fact that I was so busy with school made me slow down and really treasure each page I read. I picked up on all the little details I missed the first time around. And I fell deeper in love with Peeta. Seriously. That boy.
Katniss is the most painful protagonist to connect to because she's brazen, unable to relate to others and can't show emotion. And yet I want happiness for her, I want her to survive and I want her to beat the Capitol to the ground.
Now this book does include a love triangle. But it's actually a well done love triangle because it's "all for show." Katniss and Peeta are forced to love each other to survive, and Gale can only stand by and watch. And because this book is written in first-person, we don't get to see the inner thoughts of Peeta or the actions of Gale back in District 12. It's all Katniss, which makes it even more difficult because she just doesn't get it. How does she not see how truly in love Peeta is with her?? UGH! It's written all over his face in every scene. This triangle wasn't a drag because nothing was really said to make it one. Katniss and Gale never said they were in love with each other. Peeta loves Katniss. And Katniss has to love him back to save their skins. It's so much more complicated than a typical YA love triangle which makes it all the more exciting.
But what I think I love most about the book is the prose. I'm such a huge fan of disjointed, almost unedited thoughts—especially in first-person stories. And Collins writes each scene with such care that even what would be the most boring scene is anything but. She is awesome at action. She knows just how to get the heart pumping fast and the fingers turning the pages rapidly.
Ahh, Collins, what a wonderful first book!
My Rating: 5/5
Favourite Quotes:
"Happy Hunger Games! And may the odds be ever in your favor."
"I don't want to lose the boy with the bread."
"Only I keep wishing I could think of a way…to show the Capitol they don't own me. That I'm more than just a piece in their Games."
"It's funny, because even though they're rattling on about the Games, it's all about where they were or what they were doing or how they felt when a specific event occurred…Everything is about them, not the dying boys and girls in the arena."
"Because…because…she came here with me."